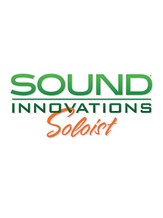 Effervescence (Sound Innovations Soloist, String Bass)
Digital Sheet Music - Download PDF / Print On-Demand
Arrangement:
Solo & Small Ensemble
COMPOSER(S):
Denzel Washington
ARRANGER(S):
Kirk Moss
Description:
Composer Denzel Washington's Effervescence uses the Lydian mode, having just one note changed from a major scale with the fourth scale degree raised a half step, giving an airy sparkle to the sound. Use a collé bow stroke to release the up-bow staccato eighth notes into the air like an effervescent bubble.

This piece is part of the Sound Innovations Soloist series. SI Soloist includes original and creative solos that will help your students become strong, independent musicians. These solos provide valuable performance and practice opportunities from fresh, new voices and trusted composers.

What makes SI Soloist unique:
* Preparatory Exercises are provided to support the skills needed for each solo.
* Sound Advice for each exercise and solo provides tips for performance and technique.
* The diverse selection of composers presents a variety of musical styles.

An exclusively digital title---available for interactive practice through MakeMusic Cloud or print-on-demand through totalsheetmusic.com, alfred.com, or your favorite retailer.
Sample Audio:
Pages:
12
Item #:
00-PS-0016651